On Tuesday, Attorney General Jeff Session made the official announcement that President Trump is ending the Deferred Action for Childhood Arrivals (DACA) program that has protected undocumented immigrants brought to the US as children from deportation. Sessions emphasized that it is Congress' responsibility to act if they want to protect DREAMers before the official end of DACA in six months.
The decision to end the program was previously reported, but after the official announcement politicians from both sides of the aisle and business leaders publicly commented on the decision. Here's what they've said so far (reactions will be added as they come in):
Republicans
Despite urging President Trump not to rescind DACA on Friday, Speaker Of The House Paul Ryan issued a statement supporting the decision, but urging Congress to act to replace it:
"Congress writes laws, not the president, and ending this program fulfills a promise that President Trump made to restore the proper role of the executive and legislative branches… At the heart of this issue are young people who came to this country through no fault of their own… It is my hope that the House and Senate… will be able to find consensus on a permanent legislative solution that includes ensuring that those who have done nothing wrong can still contribute as a valued part of this great country."
Senator John McCain of Arizona condemned the decision in a statement:
"President Trump's decision to eliminate #DACA is the wrong approach to immigration policy… I strongly believe that children who were illegally brought into this country through no fault of their own should not be forced to return to a country they do not know… The federal government has a responsibility to defend and secure our borders, but we must do so in a way that upholds all that is decent and exceptional about our nation."
Senator Jeff Flake, also of Arizona, took Ryan's approach — supporting the decision on legal grounds, but urging Congress to pass a replacement:
"It should be evident from the fear and confusion surrounding #DACA that executive actions have a short-shelf life and are a poor substitute for permanent, bipartisan legislation to fix our broken immigration system. The ball is back in Congress' court where it belongs, and there are a lot of innocent kids counting on Congress to do its job. Congress must act immediately to pass permanent, stand-alone legislation to lawfully ensure that children who were brought here by their parents, through no fault of their own, are able to stay and finish their education and continue to contribute to society." 
Senator Marco Rubio of Florida offered a critique of the decision through a bible quote:
"For I was hungry and you gave me food, I was thirsty and you gave me drink, a stranger and you welcomed me"; Matthew 25:35″
Charlie Baker, the Republican Governor of Massachusetts, tweeted that Trump's decision was "the wrong decision".
"President Trump made the wrong decision today that could negatively impact our economy and many of the Commonwealth's families. I hope Congress acts quickly to find a bipartisan, permanent solution to maintain the protections of Deferred Action for Childhood Arrivals recipients, which includes approximately 8,000 young Massachusetts residents who are right now serving in our military, attending our schools and contributing to our economy while striving to give back to their communities."  View image on Twitter
Nevada Republican and Governor Brian Sandoval issued a statement spotlighting his support of DACA and hopes for Congress to pass a replacement:
"Nevada is a state that is proud of its dynamic and diverse immigrant communities. I support DACA and have been proud to sign into law legislation that allowed DACA recipients to become licensed teachers in our schools and provide a path for them to earn a driver's license which has increased safety for all Nevadans. I have also had the privilege to meet many individuals and families whose lives have been transformed by this program. These are individuals who were brought here as children and this is the country they know and love because it's their home. Many are now young adults who wear our nation's uniform in the Armed Forces or are teaching in our classrooms. They're our neighbors, friends, and the familiar faces at the grocery store. They are Nevadans. While the State has taken many actions to embrace and ensure equal opportunities for DACA recipients, a solution require Congressional action. I am hopeful that Nevada's federal delegation will recognize the urgency of the moment and fight for the thousands of Nevadans who are living happier lives and contributing to our state's recovery. Congress must act in order to preserve this program and reform and stabilize our nation's immigration system." View image on Twitter
Dave Reichert, Republican Congressman of Washington, issued a statement supporting congressional action:
"Children who were brought here by no fault of their own see America as their country and their home… Punishing these individuals who have contributed so much to our communities and for a crime they did not commit is not in the American DNA."
Florida Congressmen Ileana Ros-Lehtinen and Mario Diaz-Balart both made their decision over Twitter:
"Putting so many young people at risk of deportation doesn't make economic sense nor does it strengthen our #SoFla community!" – Ileana Ros-Lehtinen 
"Proud stand with #dreamers + strongly disagree w/ decision to end #DACA" – Mario Diaz-Balart
Jeff Denham, California congressman, told Poppy Harlow that "without a congressional fix, the decision to end DACA will hurt the economy…" 
Democrats
Former President Barack Obama highlighted the decision in a  Facebook post :
"To target these young people is wrong – because they have done nothing wrong. It is self-defeating – because they want to start new businesses, staff our labs, serve in our military, and otherwise contribute to the country we love. And it is cruel. What if our kid's science teacher, or our friendly neighbor turns out to be a Dreamer? Where are we supposed to send her? To a country she doesn't know or remember, with a language she may not even speak? Let's be clear: the action taken today isn't required legally. It's a political decision, and a moral question. "
Predictably, Congressional Democrats were upset by Trump's decision. Senator Patrick Leahy of Vermont dug into Trump in his statement:
"[T]he President has revealed he is as heartless as he is uninformed… Trump is targeting yet another exemplary group of people who enrich the fabric of our society… [Trump's] action, with the complicity of Attorney General Session, is petty and malicious, and it is harmful in so many ways."
Likewise, Senator Elizabeth Warren of Massachusetts finalized the decision, and called on Congress to replace DACA:
"Subjecting Dreamers to mass deportation is part of the bigoted policies that are a cornerstone of @realDonaldTrump's admin. #DefendDACA. Turning our backs on Dreamers makes us weaker, makes us less safe, & betrays our values. #DefendDACA. America should keep its promises. If @realDonaldTrump doesn't know that, then Congress must act to make DACA permanent. #DefendDACA."
Business People 
The "top dogs" in business are speaking out against the decision also. Google CEO Sundar Pichai tweeted shortly after the decision that Congress needs to act to replace DACA as soon as possible:
"Dreamers are our neighbors, our friends and our co-workers. This is their home. Congress needs to act now to #DefendDACA. #WithDreamers"
Apple CEO Time Cook wrote to employees that the company will use all it's efforts towards lobbying for a DACA replacement and provide help to DACA beneficiaries who work at Apple:
"I am deeply dismayed that 800,000 Americans — including more than 250 of our Apple coworkers — may soon find themselves cast out of the only country they've ever called home… I want to assure you that Apple will work with members of Congress from both parties to advocate for a legislative solution that provides permanent protections for all the Dreamers in our country… We are also working closely with each of our co-workers to provide them and their families the support they need, including the advice of immigration experts."
Similarly, Microsoft President Brad Smith presented similar promises:
"[W]e will work as needed with other companies and the broader business community to vigorously defend the legal rights of all Dreamers. For the 39 Dreamers that we know of who are our employees, our commitment is clear. If Congress fails to act, our company will exercise its legal rights properly to help protect our employees. If the government seeks to deport any one of them, we will provide and pay for their legal counsel. We will also file an amicus brief and explore whether we can directly intervene in any such case. In short, if Dreamers who are our employees are in court, we will be by their side."
Facebook CEO Mark Zuckerberg, called the decision "cruel" and "wrong", and urged Congress to act, in a Facebook post:
"This is a sad day for our country. The decision to end DACA is not just wrong. It is particularly cruel to offer young people the American Dream, encourage them to come out of the shadows and trust our government, and then punish them for it.
The young people covered by DACA are our friends and neighbors. They contribute to our communities and to the economy. I've gotten to know some Dreamers over the past few years, and I've always been impressed by their strength and sense …
Box CEO Aaron Levie tweeted that replacing DACA should be Congress' first priority:
"Congress must act immediately to allow Dreamers to stay. This should be priority # 1 given the confusion and stress ending DACA will cause."
The conservative lobbying group the US Chamber of Commerce issued a statement saying that reversing course on DACA ran counter to the country's best interests: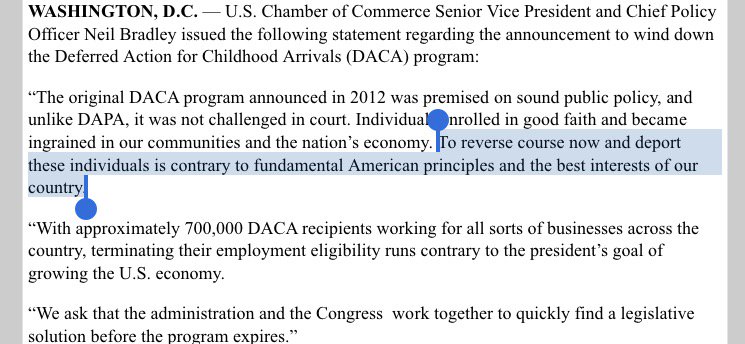 "
Javier Palomarez, the head of the Hispanic Chamber of Commerce, responded the decision by signing from Trump's National Diversity Council, telling HLN:
"I tried to work as hard as I could with this administration on this issue and I continue to want to work with them on other issues, like tax reform, like health care reform, and so many other important things… But I really don't see the logic in doing what we're doing right now."
Similar to public figures, people around the United States are protesting the decision, leading to the arrest of a dozen people in front of Trump Tower. In Denver as well as other states in the U.S. students walked out of class in protest to the decision.